Bracing for Your Health: Back Braces
Bracing for Your Health: Back Braces
Written By The Fix Medical on July 29, 2020
---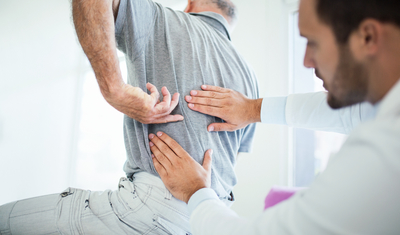 While they may not show it, most people suffer from back pain of some sort at one point or another during their lifetime. In fact, studies have shown that, in America alone, approximately 80% of the population will experience low back pain at one point or another.
Back Braces: Everything You Need to Know
The occasional back pain is usually nothing to worry about. However, many individuals suffer from pain due to an accident or chronic condition, and aside from chiropractic care or the use of pain medication, they utilize back braces to take the pressure off their lower back and ease their pain.
Typically, back braces are utilized for:
Post-operative healing
Osteoarthritis
Vertebral Compression Fractures
Degenerative Disc Disease
Spinal Stenosis
Muscle tension
Muscle Strain
LOS Back Brace
A Lumbar Back Support is a particular type of back brace which can be used to support the low back and provide pain relief during the duration of your care.
LSO (Lumbosacral) back braces have helped hundreds of patients find relief from their chronic back pain. In fact, out of 879 patients surveyed, 65% of them stated that they experienced pain relief within the first hour of wearing one.
These particular back braces are designed for stabilization for chronic pain and custom-designed for each patient's particular condition.
This type of brace may be prescribed for you by your doctor to help reduce or eliminate the need for pain medication for your low back pain, while also assisting to re-train some of the muscles in the low back and improve posture.
This type of brace is a functional brace, meaning it is used as a tool to help improve function and mobility, rather than to restrict motion of the spine.
How It Works
In the back of this kind of brace you will see a pulley system, attached to two tabs in the front of the brace. After the brace is fitted to you, you will pull these tabs which will then pull the pulley system in the back. This will help unload some of the weight normally placed on the lower back, in this process reducing pressure on the spine's joints, discs and muscles. By reducing spinal pressure a back brace may lessen painful muscle tension that is a common protective reaction following an injury.
Pain Relief
This type of brace has proven to be very effective in temporarily relieving low back pain. Your doctor may suggest you try wearing the brace for 15-20 minutes the next time you are in pain, or feel that you need to take a pain reliever. In many cases the brace has proven to replace the need to take a pain reliever. This could also be the case for you.
Your doctor will advise you on how long, and how frequently you should wear this brace. As part of your care, we will be working with you to improve function and increase activity. The back brace is a tool to assist you throughout this process, with the end goal of you being able to resume the activities of your choosing without any external support or needing to wear the brace.
Questions regarding back braces? Then call our office today at (520) 575-5833 to schedule a consultation.

Posted In: Chiropractic Low Back Pain Treatment Back Pain Back Braces